About Me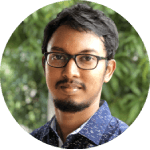 I am Pethuraj, Security Researcher from India. I have more than 5 years of experience in
Cyber Security and has rich experience in Penetration Testing and Vulnerability Assessment.
I also spend my time in Bug Bounty and solve CTF challenges to sharpen my skills.
I'm recognized as Security Researcher and rewarded by more than 300+ companies.
Services

Penetration Testing
I perform Professional Penetration Testing to identify loopholes in the Organization's infrastructure.

Vulnerability Assessment
To approach the infrastructure in identifying the early and malicious security flaws.

Research
To identify and discover the new vulnerabilities and to develop a new exploit.
Experience
2020 - Present
Cyber Security Analyst
Working as Cyber Security Analyst at Detox Technologies.
2019 - 2020
Freelance
Performed various freelance projects related to Vulnerability Assessment and Penetration Testing.
2015 - 2018
EC - Council Tutor
Worked as Cybersecurity instructor in the field of Ethical Hacking, Cyber Forensics and Pentesting.
... 2014
EC-COUNCIL C|EH & C|HFI Cerification
Started my journed into Ethical Hacking and Cyber forensics with these Certifications.
Professional Work

I perform Vulnerability Assessment and Penetration Testing on Web, Mobile, Thick Client and Cloud and into Cyber Forensics.
Web Application Pentesting
90%
Thick Client Pentesting
80%
Testimonials

Ralph Moonen
Technical Director at Secura
Pethuraj reported a vulnerability in one of our websites. He was professional in his communication and helped us increase our security. Thanks Pethuraj!

James Davis
Head of Information Security at Jisc, UK
I'd like to thank Pethu for helping improve security at Jisc by reporting a vulnerability.

Divya Miglani
Security Engineer at NetApp
Pethuraj is a great Security Researcher, his Hall of Fames and bounties are evident of his great success. I rarely came across such a talent with humble and helpful attitude. He is an inspiration for all the newbies in infosec domain who are exploring for an inspiration and looking for a guidance. He really helped me a lot in building my skills as a Pentester. His writeups are so easy to understand and informative that have helped me to achieve my goals.